Current MSX-configuration:
Main MSX computer: Panasonic FS-A1GT MSX TurboR! (With the manuals :-) The Ultimate MSX Computer!
Connected to this fine machine is:

an MSX slot-expander (expands 1 cartridge-slot to 4 slots!) having plugged in:

Philips NMS-1205 Music Module (MSX-Audio), with 256 kb sampleRAM! (Thanks again, Erik!)
MSX Club Gouda SCSI interface!
This interface is connected to a very nice SCSI box with the following hardware in it:
Sunrise for MSX GFX9000!
Sunrise Moonsound with 640kB sample RAM! (Version 1, upgraded to version 2; thanks to Marcel Delorme for arranging it for me)

SCC cartridge (Nemesis 3, thanks to Erik Maas the game is working again! And thanks to Maggoo for giving me this cartridge!)
Roland MT-32 Multi Timbre Sound Module via MIDI
Sony MOS-1 MSX mouse
Sony KX-14CP1 Trititron RGB monitor (main)
Philips CM-8824 RGB monitor (GFX9000)
sometimes: keyboard for the Music Module (fun!)
SkyTec TEC-250 mixer, to mix the following four channels:

MB Stereo: right: Philips NMS-1205, left: turboR internal chips (PSG, PCM, YM2413 FM MSX-MUSIC, SCC when plugged in)
Sunrise Moonsound
Roland MT-32
CD Audio from the Pioneer DR-U124X

Secondary MSX computer: Sony HB-G900P MSX2 computer, with:

internal extensions (stuff built in):

Sony RS-232C interface (standard in HB-G900)
2 diskdrives (the B-drive is a drive of a HB-F700, previoiusly it was an old HD drive, which worked also fine, thanks to Michel Groenheijde (my good old friend! :-), for giving it to me, for my 17th birthday!)
MSX-DOS 2 (It's kernel version 2.22, but I use MSX-DOS version 2.41!)
512 kB Memory Mapper (instead of the normal 64kB non-mapped RAM... This RAM was placed in the VRAM extension:)
expanded VRAM to 196 kB (wow, is this useful!)
turbo-switch: if turned on, the Z80H processor runs on 8MHz instead of 3.5! Thanks to Erik Maas who made the electronic adaptions and also thanks to Bas Wijnen who made the PCB! :-)

and plugged in:

Panasonic FM-PAC (MSX-Music), thanks to Kasper Souren for giving me the manual! (In the mean time I also got the box!)
Philips SBC-3810 MSX mouse (with manual)
Smartlink 14k4 modem (connected to the RS-232C port of course)
Philips NMS-1431 printer (not connected anymore, I don't use it!)
Sony SDC-600S HighSpeed Bitcorder, a fast datarecorder, which can double the speed, so commercial software can be loaded at 2400 baud in stead of 1200! (I also have the manual, thanks to Ad Verhoeven for giving it to me!)
Philips CM-8833 RGB monitor (great! Thanks Bart Bakker (Zeist)!)

Note: I used to have my Gouda SCSI interface connected to the Sony HB-G900P with on the other side a 1GB SCSI harddisk, in a very cool Restore case with its own power-supply. Thanks to:

Kasper Souren for the interface and help!
Erik Maas for updating the BIOS-ROM and to Maico Arts for helping me out!
the department of Solid State Physics II of the University of Nijmegen for giving me a harddisk (in case) for free! (Although it seems to blow up all the power supplies I connect to it!) Also thanks to Ruud Baltissen for the replacement power supply.
Soon to be added: a V9958 VDP in the Sony HB-G900P. The VDP is already laying on my desk, but I need instructions how to put it in the computer, without disabling the superimpose and genlocker functions. Erik Maas was again so kind to volunteer to do the real hardware work. (Thanks, buddy!)

Anyway, here's a picture of my stuff around October 2002. See how many items of the above list you can find on it... Click on the image to get hints! Note that my slot expander is located behind the monitor at the right, so invisible on this picture: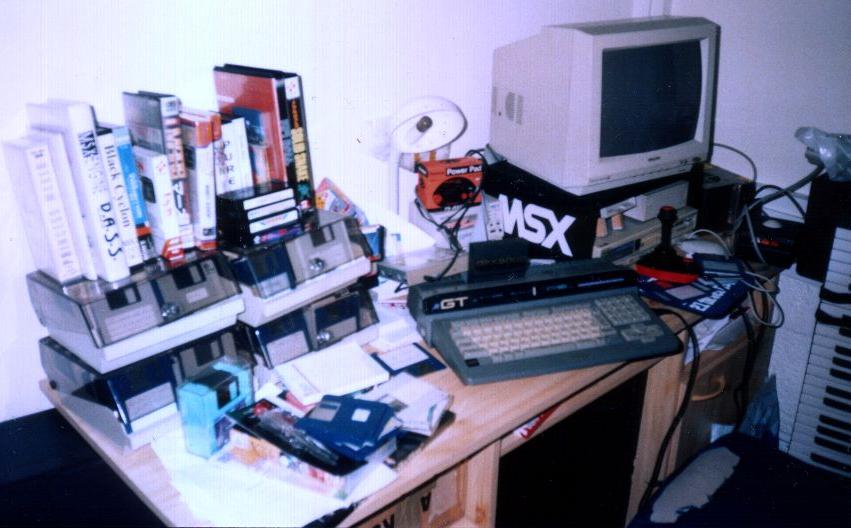 And here's a picture of my stuff around May 2005, in my new appartment. See how many items of the above list you can find on it... Click on the image to get hints! Note that my slot expander is located behind the FS-A1GT: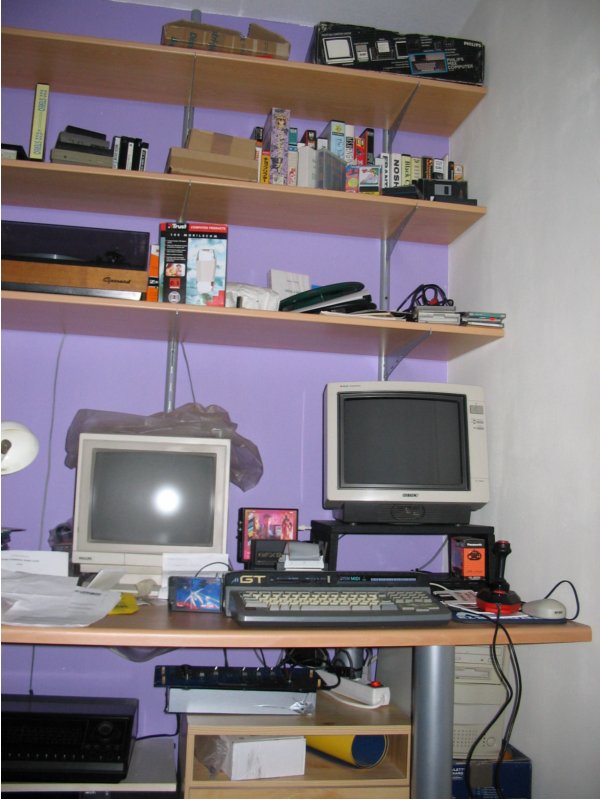 ---
Text © 1996-2005 by Allosoft (see at "Info and stuff")

This subpage was last updated on 17-05-2005